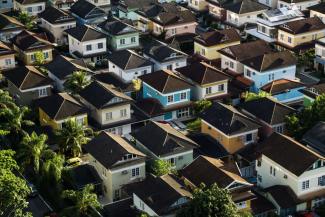 First Time Homebuyer Tips
Of all the things you'll purchase in your lifetime, it's likely that your home will be the largest, most expensive purchase you will ever make. While homes vary widely in price throughout the U.S., the median price of a home today is close to $300,000. While there are a lot of things that you can do prior to purchasing a home, such as getting your credit in order, and saving for the down payment, the home buying process itself requires some due diligence on your part.  Here are five things you can do when you decide to purchase a home to ensure that you're getting the mortgage, and the home that is best for you.
Compare Mortgage Lenders
This is probably the area where most home buyers fall short.  Most people are so relieved to be approved that they're happy to take that approval and run - not bothering to shop around for another mortgage broker. There are many services that allow multiple mortgage companies to compete for your business.  A better rate could be right around the corner, but you'll never know if you don't look.
Learn about Different Mortgage Options
The standard mortgage typically requires a down payment between 10% and 20%, making them a no-go if you don't have enough set aside for a down payment. However, there are other options available that require a smaller down payment.  These include an FHA mortgage, which are backed by the Federal Housing Administration and currently offer a 3.5% down payment option. FHA mortgages are also easier to qualify for, though most FHA borrowers will have to pay mortgage insurance, which adds to your monthly cost.  For those looking for homes in a rural community, the U.S. Department of Agriculture offers 100% financing and low interest rates and eligible veterans, active duty members and their families can qualify for VA financing, which requires no down payment or mortgage insurance.
Get Prequalified
Finish the prequalification process before you begin looking at homes.  Getting prequalified will give you a good idea of how much of a house you can afford.  Plus, a prequalification letter signals that you're serious and credible. In fact, many realtors require that a homebuyer be prequalified prior to showing houses.  Once you decide on a mortgage company and are happy with the rates, be sure to get that prequalification letter.
Try and Remain Objective
It can be difficult to find a home that you fall in love with and remain detached throughout the entire home buying process, but don't fall into the trap of overbidding for the house.  Just remember that's it's likely that while this may be the first house you're buying, it won't likely be the last. Retain your composure and stick to your budget.
Purchase Something You Can Take Care Of
That beautiful home with the expansive lawn has great curb appeal, but remember that the lawn will need watering, plenty of it, as well as someone to keep it looking trim.  Are you willing to give up your weekends to take care of a high maintenance home? Are you willing to pay that likely exorbitant water bill? If you don't enjoy yardwork or have no desire to pull weeds, a home with a small yard, or no yard at all may be the best bet for you.
Congratulations on your decision to purchase a home.  While the path to homeownership can be somewhat muddled, once you're settled, you'll be glad you took this enormous step.
*This content is developed from sources believed to be providing accurate information. The information provided is not written or intended as tax or legal advice and may not be relied on for purposes of avoiding any Federal tax penalties. Individuals are encouraged to seek advice from their own tax or legal counsel. Individuals involved in the estate planning process should work with an estate planning team, including their own personal legal or tax counsel. Neither the information presented nor any opinion expressed constitutes a representation by us of a specific investment or the purchase or sale of any securities. Asset allocation and diversification do not ensure a profit or protect against loss in declining markets. This material was developed and produced by Advisor Websites to provide information on a topic that may be of interest. Copyright 2022 Advisor Websites.